Kroniak wrote:
This is the result after reading your guide:
its the first thing i crafted in 4 years i think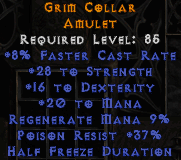 too bad my olvl wasnt 90, would have had a chance for +2 skills then
In europe we had one of these, the guy names was tamerentong and he had 2+ sorc 9 fcr, 30 str 20 dex, and something else, it was godlike.
Oop,s doublepost I´m sorry! ..
Cosmo Kramer wrote:
it seems that the 6%ll mod is lvl 95
These 95 ones suck!! ..