why doesnt my profile editor look like the one i see in the pics? i dont have a key list or a schedule list. i cant save my keys to the key list in the main screen of the prog. my main screen also looks different. i cant get my kolbot to log onto bnet it just keeps trying to update my patch which ive copied my d2 folder and make a new one and put the 114 components into my copied d2 folder and still this doesnt work. why? this is very frustrating.
Because noah~ changed the design of D2BS manager, got a few updated pointers/patches from tyler nerdie and then apparently thinks that all credit goes towards him for D2BS.
LOL @ Author.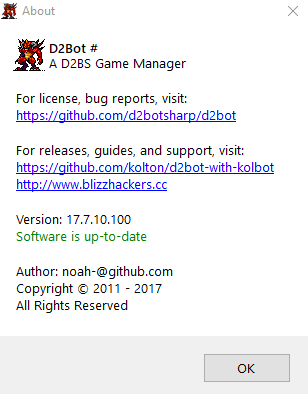 Uh.. noah~ wrote d2bot# so of course his name is down as the author..? He has updated the design of D2Bot# recently (within the last year), if that's what you mean.
Never heard him claim credit for D2BS either, dunno what you're smokin' m8